Filters allow you to display specific information you would like to see in the activity log, reports, and exports. Report managers, administrators, and agency administrators can save filters in order to quickly apply them later.
Saving a New Filter
Navigate to Activities → Calls. (This can also be done from the text log or from many report pages, such as Activity Reports.)
Find the Filter in the upper left corner and click it to open the Filter panel.

Select all the options you wish to use for your filter, including date range, tags, activity types, and minimum durations.
Click Save Filter.

In the pop-up that appears, enter a name for your new filter and provide an optional description.
Using Filters
To use saved filters in your logs or in reports:
Click the Filter button to open the filter panel.
Use the Choose saved filters drop-down to select from your saved filters.
Click Apply Filter.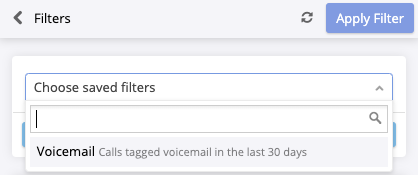 Managing Filters
The Manage Filters page lists all saved filters in the account you're viewing. From this page, you can rename or delete filters, mark them as read only, or allow report managers in your account to view them.
To manage filters, select the Manage Filters button in the filter panel.