Ways to Contact Our Customer Support Team
There are several ways to reach our Customer Support Team. If you are looking to view, create, or manage a support ticket, please skip ahead to the next section.
If you need to speak with someone on the customer support team, you have the option to reach us by phone or via chat inside of CallTrackingMetrics.
To contact support by phone: 800-577-1872 (keypress 2)
To contact support via chat:
Log in to CallTrackingMetrics
Navigate to the left hand navigation menu
Select "Help" and then click "Chat with Support"
How to Join the CallTrackingMetrics Help Center
Note: you must have a CTM account in order to sign up to the community
To setup a User go to your call CallTrackingMetrics account
Go into Manage Users
Add User
As a User in order to submit a trouble ticket:
Sign into your CTM Account
Next go to Help → Create a ticket
If you are new to the Calltrackingmetrics help community and ticking portal? click → Sign up
Once you click on sign up you will need to add your Full Name and email address
Once the information has been sent you should see Sign-up complete
Next you will get an email labeled welcome to calltrackingmetrics where you will need to click on the link for account verification
Once clicked, you will be brought to the login page
Next enter a user name and setup a password
If an existing user
Enter your user credentials for login → enter your Username and Password or use sign in with Google
Once in the portal you can submit a request in the ticket portal by clicking → Ticket Portal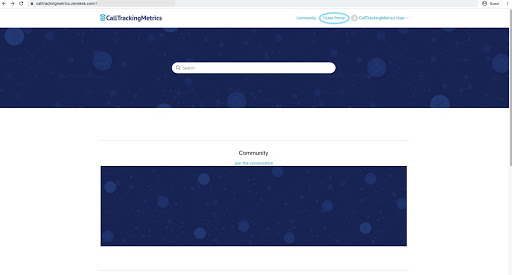 Once clicked, you can add all the following details

CC: on the Ticket (Optional)
Subject
Description
Attachments (Optional)

Click → Submit, this will create a trouble ticket into Calltrackingmetrics
Note: You will be able to view the status of tickets when in the help center