Changes made to areas of your account are logged as Versions in the individual feature pages. You can view a global log of those versions in the Change History page in your account.
Versions and change history are kept for 7 days for individual accounts and 300 days for accounts that can create sub accounts.
Viewing Past Versions
To access the change history on a particular feature, look for the Versions button in the upper right corner of the settings page for the feature you're working on. For example, to see the change history on a tracking number:
1) Navigate to Numbers → select a → Tracking Number
2) Click edit to go to the settings for that number.
3) In the upper right, you will see a Versions button. Click this to view the change history for that number.

Versions are available on the following feature pages:
Tracking Numbers
Call Scripts
Call Settings
Smart Routers
Voice Menus
Queues
Schedules
Geo Routers
Receiving Numbers
Target Numbers
Tracking Sources
Smart Dialers
FormReactors
Notifications
Call Triggers
Text Triggers
User Profiles
Price Markups
Signup Pages
Custom Fields
Access Controls
Billing Settings
Restoring Past Versions
You can restore past versions of a feature by clicking on the version you want to revert to. A pop-up will appear detailing the changes that will be made and asking you to confirm you want to restore that version. Select Restore Property to confirm.
Restoring Deleted Objects
Some features have the ability to store deleted objects. If you deleted a voice menu, for example and need to restore it to the account. Use the Restore button on the voice menus page to re-add deleted menus back to your account.
Deleted objects are only available to be restored for a short window of time, so exercise caution when deleting them from the account.
The option to restore deleted objects is available for the following features:
Voice Menus
Call Triggers
Text Triggers
Smart Routers
Queues
Schedules
Geo Routers
Tracking Sources
Notifications
Access Controls
Signup Pages
Price Markups
Global Change History
You can view a log of all version changes on the Change History page, located under Settings → Change History.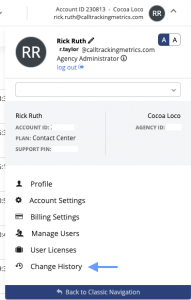 These pages compile version changes from objects across the account into a single log, which makes it easier to get an idea of the activity in the account. Click Edit next to a change to be taken to that feature's Versions list. This is(where you can view the full details of the change, and restore versions as needed.
You can use the Object Type and User drop-down menus to filter the view.
If your account has sub accounts, you can use the All Accounts drop-down to view the log for all sub accounts at once.