If you are using the CallTrackingMetrics softphone, calls can be placed on hold using the Hold button found in the softphone during an active call.

Putting a Caller on Hold
While you're on a live call, click the Hold button. You will have the option to put the call on hold for everyone or to put it on hold just for you.
If you select "Hold for me," the call will remain assigned to you and no one else can pick up the call.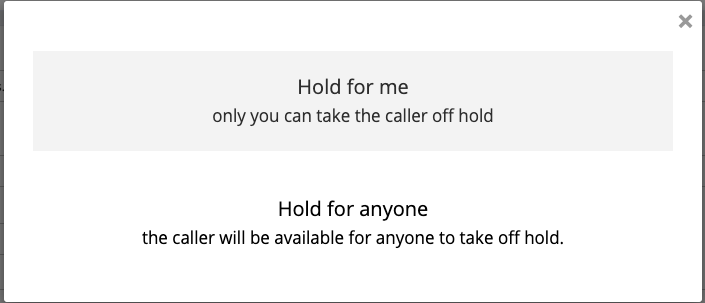 When a call is placed on hold for everyone, the call/listen button in the call log will change to a flashing hold button. Any agent logged into the account can click this button to pick up the call. Clicking to pick up the call will open a pop-up prompt with options for how to answer the call from hold:
Answer Call picks up the call on your softphone. A tone will play indicating you're being connected to the call.
Transfer to Agent sends the call to another available agent on their softphone.
Transfer to Number sends the call to another number of your choosing (such as your own cell number, if you need to walk away from your computer while continuing the conversation).
Transfer to Queue sends the call to a queue in your account.
Taking a Caller off Hold